Are you an expert in your field, but struggling to share your knowledge with the world? Our team of experienced Kajabi Experts will work with you to design and develop comprehensive, engaging online courses and content that will help you monetize your knowledge and leverage your time.
1:1 Strategic Coaching
Enjoy quick responses from our team, rather than scheduling and waiting for long Zoom meetings.
Team of Kajabi Experts
Sit back, relax, and watch our team build your Kajabi course and content for you.
Pre-Made Templates
Save time and money by using our pre-made templates that were designed for a launch that sold 5,000 courses in the first year.
Online Courses that Teach Kajabi Basics
Learn simple techniques and programs that make developing and managing your courses simple.
Course Audit by a Kajabi Expert
Experience peace of mind when your Kajabi Expert proofs your entire course before it goes live.
On-going Support After Your Course is Launched
Continue working with your Kajabi Expert and enjoy PPT slides, webinars, and Kajabi set-up/management at a discounted rate.
Why Work With Generation Business:
You'll learn how to

design your course

for maximum engagement and impact from Kajabi experts that have sold thousands of online courses.
We handle all of the tech to

maximize the speed of completion

.

You won't have to do it alone! You'll have expert guidance every step of the way on the journey.
Course Development from Start to Finish
Examples of What We Can Build for You
Design Style Guides
Design Course Layouts
Design Intro Videos
Design Outro Videos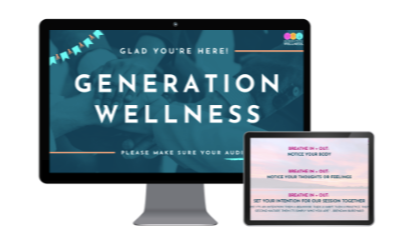 Design Presentations
Edit Videos
Design Course Assessments
Design Course Manuals
Design Course Certificates
Design Course Website Pages
Design Registration Pages
Design Course Login Pages
Design Course Emails
Design Social Media Graphics
Design Promotional Videos
Design Webinars
Hey Firecracker, it's time to share your shine, without burning out!
Hi, I'm Lyndsay!
I'm a former Teacher and School Counselor turned eLearning CEO. My team and I help purpose-driven business leaders create their Kajabi online courses and content, so they can increase their impact and leverage their time.
In 2020, online products proved to be the savior of my businesses and allowed them to live on during shutdowns, sickness, and a near death experience that left me unable to work for months. The question that I believe every business owner should be asking themselves is:

"Will your business still work if you can't work?"
If the answer is no, you're in the right place because our team of Kajabi experts and advisors are here to give you the best shot at finally launching your online course, membership, or product, while also utilizing our team to update all of your Kajabi creations.
Yes, the online arena can be challenging, but our superpower is simplifying the process and providing quick responses to our clients, making it easy to overcome blocks that show up along the way.
We are different from other course creation companies because we've designed and sold thousands of our own courses in various industries aside from business, proving that our strategies and tools work. Here are a few of our most popular products:
We've helped many business owners just like you scale and simplify... now it's your turn to launch the online product within you.
SCHEDULE A CALL
What do you need right now?
Online Course Design + Build
A 60 day program that supports you in sharing your gifts with the world by providing training, coaching, and building your online product. Our team is composed of instructional designers and Kajabi Experts that can answer anything related to Kajabi creation and build your course for you. Engagement and simplicity is the foundation of our design/development process, making it easy for students to complete your course.
APPLY NOW
1:1 Kajabi Coaching Session
You're trying to launch your course in Kajabi, but you're getting lost in the planning and the tech is sending you into spin. You need help to transform the ideas swirling around in your head into a strategic plan of action. Imagine having someone walk you through the blocks to get your course launched. Our team is composed of instructional designers and Kajabi Experts that can answer anything related to Kajabi creation. There are two different Kajabi Coaching options. Click to learn more.
LEARN MORE
Transform your in-person trainings to online courses.
You're here to make a difference. We're here to amplify your difference and simplify your business.
WE'RE HERE TO SUPPORT YOU!
Please fill out the form and let us know your needs.